Keynote Speaker, Wanda Brown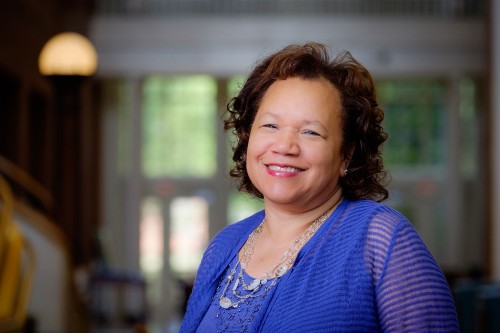 Session Presenters
MK Amos
With the exception of four years when she did things like teach middle school and work in a law firm, MK Amos has been in academic libraries since she was 18 years old. After 20 or so years in public service she transitioned to technical service when in 2014 she became a music cataloger, a job she had been dreaming about for at least a decade. In Jackson Library at UNC Greensboro she does a bit of editing – for her colleagues and for The Journal of Learning Spaces – and a lot of cataloging for the Harold Schiffman Music Library where she worked as a manager from 2004-2014. During her non-library time, MK studies singing and acting, her first loves. (She played Marian the Librarian in 1988, no lie.) She volunteers, usually as a singing actress, with community theaters within an hour's radius of her home in Rockingham County where she lives on her family's farmland. Two weird cats claim her as their servant and a really cool fourth grader, who happens to be her nephew, fills her heart with joy. Be on the lookout for her cabaret show, premiering in 2020.
Breanne Crumpton
Breanne Crumpton is the English Reference Librarian at Winston- Salem State University. She received her MLIS from the University of North Carolina at Greensboro in 2015 and her Bachelor's Degree in Business Administration and Art History from the University of North Carolina at Chapel Hill in 2013.
Prior to working at WSSU, she worked for the Art Reference Library at the North Carolina Museum of Art in Raleigh, NC. She is a member of the North Carolina Library Association (NCLA), the Art Libraries Society of North American (ARLIS/NA), the Association of College & Research Libraries (ACRL), and the American Library Association (ALA).
Liane Elias
Liane Elias is excited to present for the first time at a TALA conference, having attended several in the past. She works as the Night/Weekend Desk Manager of the Research, Outreach, and Instruction Department at UNCGreensboro where she has been for the last 6.5 years. Her favorite parts of the job are connecting people with great resources and working with the interns who staff the Reference desk; her love of libraries goes back to childhood. Liane comes from a background in voice performance and got her undergraduate degree in vocal studies at UNCG. She has been part of many staged productions of musicals and operas over the years and never passes up an opportunity for karaoke. She has two cats and is getting married in September to her partner of nearly 11 years.
Sharnette Evans
Sharnette Evans is the Evening and Weekend Reference Librarian at Winston Salem State University. She received her MLIS from North Carolina Central University in December of 2016, and her Bachelor's Degree in Liberal Studies concentration in African American Studies in 2012. Sharnette's hobbies include hanging out with family and friends, playing poker, and traveling.
Betty Garison
Betty Garrison is the Business Research Librarian at Carol Grotnes Belk Library, Elon University. She is liaison to the Love School of Business and her research focus is students using data, data resources, and the value of professional organizations.
Justin Grandison
Justin Grandison is a graduate of North Carolina A&T State University where he earned a degree in Journalism & Mass Communications with a concentration in TV Broadcast. He was born and raised in Fayetteville, NC. Justin has been a permanent member of the C.G. O'Kelly Library staff on the campus of Winston- Salem State for 9 years as a Technology Support Technician. He served as a Media production Associate for 2 years prior to that. Justin is experienced with PC and, Mac, software and hardware. He is also experienced with Android, Apple iOS, different device connections, peripherals, storage devices, and Web 2.0 services. Justin is a great problem solver and solution provider for students and staff alike.
He has experience working at almost every service point in the library.
Carlos Grooms
Carlos Grooms is a University Library Technician at North Carolina A&T State University. He was born and raised in Winston-Salem, North Carolina. He received a Bachelor of Arts degree in History with a concentration in Sociology at Winston Salem State University. Carlos is currently seeking a Master's degree in Library and Information Science at North Carolina Central University. In 2015, He received his Basic Information Technology Certification from Guilford Technical Community College. In 2018, he was a nominee and finalist for the University Award for Excellence in Customer Service at North Carolina A&T State University. He has over 10 years of customer service experience at Wake Forest University Baptist Medical Center and over 10 years of academic and public library experience.
Sharon Hill
Sharon is a graduate of High Point University where she received her Bachelors in Business Administration. While attending High Point she was an athlete, ranking All American in Basketball and Volleyball. She is married and is the proud mother of ten children, (4 girls and 6 boys). Today she works at Winston Salem State University as a North Carolina Certified Training Specialist in the department of Human Resources.
Sharon brings 15 years of training, management and sales experience. She has her own Life Coaching practice called "It's All About You". Currently, Sharon is enrolled here at WSSU getting her MBA, which she will received this summer. Sharon has received 4 WSSU Chancellor Achievement Awards. As Training Specialist Sharon was the first to bring face to face Emotional Intelligence classes to WSSU.
She was the first to develop a 3-Level Manager Certification Program for WSSU Managers. In addition to her current job duties she volunteered to be her Building Coordinator of her building Eller Hall, She was elected to be the Staff Senate Chair of the Orientation Committee, She is a Notary Public, and she has just recently been selected to be one of the first WSSU Champions for Winston Salem State University.
Celeste Holcomb
Celeste Holcomb is the Friends Coordinator at Z. Smith Reynolds Library, WFU. Their job is to create and coordinate the Friends of the Library donor program, as well as create print and online materials for ZSR library. Celeste's career has spanned from facility management, to editorial illustration, which has developed their skill-sets for institutional marketing and communications across these positions. Celeste holds a BS in Horticulture and Organic Agriculture from Colorado State University.
Tarah Holland
Tarah Holland is a digital content strategist for Teaching and Learning Technologies at Elon University. She develops content strategies for various forms of digital media and works with departments and programs across campus to create informative, user-intuitive and accessible websites. Tarah also integrates content strategy and user experience (UX) design strategies into projects such as new applications, instructional modules, digital signs and videos.
Jon Moore
Jon Moore is the Reference Services Coordinator at ZSR Library, Wake Forest University, where he leads a team of 20 student workers in providing reference help under the banner of AskZSR. As an Elon alum and former librarian at Salem College now at WFU, Jon has spent most of his academic and professional life in the TALA system. When he isn't training and managing student workers, he also serves on the library committees for User Experience, Staff Mentorship, and Safety & Security. He wants to ensure that the library offers positive experiences both to patrons and library workers.
India Page
India Page is from Greensboro, North Carolina.
She is the University Library Technician for Reference at Winston-Salem State University. She received her Bachelor's Degree in Mass Communication with a concentration in Electronic Media and Minored in Dramatic Arts from Winston- Salem State University in 2015.
She is also the assistant coach to Silky Smooth, the flag team of the Red Sea of Sound Marching Band at Winston-Salem State University. In addition, she is an entrepreneur and has her own business called Idolized Creations, where she creates apparel and wooden crafts.
Patrick Rudd
Patrick Rudd is the Coordinator of Instruction and Outreach Services at Carol Grotnes Belk Library, Elon University. His current focus is research instruction to first-year students, library assessment, and civic engagement initiatives focused on libraries and young readers.